In the name of Allah, Most Gracious, Most Merciful
Assalamualaikum wbh . . .
Logik dari kewujudan laman blog ini adalah kewujudan kitab suci Al 'Quran Al Karim itu sendiri. Kita mempelajarinya semasa kecil, bagaimana membacanya dengan tajwid yang betul, tetapi hanya segelintir daripada kita mengetahui makna ayat-ayat suci Al 'Quran.
Saya terpanggil untuk mendokumenkan Al 'Quran terjemahan bahasa MALAYu supaya pencarian Al 'Quran terjemahan bahasa MALAYu di laman blog lebih banyak dan mudah dicapai. Sekarang ini laman blog ini menawarkan Al 'Quran terjemahan bahasa MALAYu atau English. Jadi kita berpendapat dengan wujudnya blog ini akan lebih memudahkan carian maklumat mengenai ayat Al 'Quran bahasa MALAYu dan English seluruh DUNIA.
Ramai orang bukan Islam bila membaca Al 'Quran dengan memahami maksudnya mereka terbuka hati dan kembali ke pangkuan Islam. Mereka ini lebih bertakwa dengan memahami Al 'Quran. Kita yang lahir dalam masyarakat Islam seharusnya rasa rendah diri dan malu kerana masyarakat kita kebanyakkannya tidak memahami Al 'Quran dan ini menyebabkan banyak gejala sosial berlaku di akhir zaman ini.
Terjemahan adalah pemilihan kata-kata oleh manusia berdasarkan ayat-ayat Al 'Quran yang dibaca. Kitab Al 'Quran yang sebenarnya adalah ayat-ayat dalam bahasa Arab yang diturunkan kepada Nabi Muhammad SalAllahu Aleyhi was Sallam dalam bentuk wahyu sekitar Mekah dan Madinah dan dilindungi Allah Subha nahu wa-Ta'ala sehingga ke akhir zaman.
Marilah kita bersama-sama membaca dan metelaah Al 'Quran di masa lapang, sambil membaca Al 'Quran di dalam bahasa Arab, marilah kita sama-sama memahami maksud Al 'Quran dalam bahasa Arab itu. Tetapi dalam pada itu adalah diingatkan untuk memahami ayat yang tersirat maksudnya adalah perlu kita rujuk kepada Guru atau ustad-ustad, lihat ayat tersebut dalam konteks. Kenapa ia diturunkan. Supaya kita tidak salah tafsir. Laman blog ini menerangkan konteks bila dan kenapa surah diturunkan.
Dari surah Al-i-Imran, ayat 7: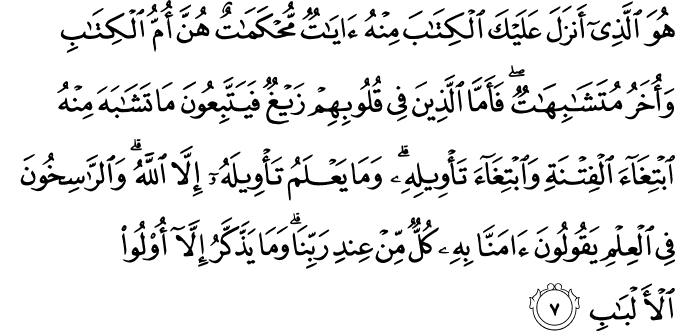 Firman Allah Ta'ala:
Dia lah yang menurunkan kepadamu (wahai Muhammad) Kitab Suci Al 'Quran. Sebahagian besar dari Al 'Quran itu ialah ayat-ayat "Muhkamaat" (yang tetap, tegas dan nyata maknanya serta jelas maksudnya); ayat-ayat Muhkamaat itu ialah ibu (atau pokok) isi Al 'Quran. Dan yang lain lagi ialah ayat-ayat "Mutasyaabihaat" (yang samar-samar, tidak terang maksudnya). Oleh sebab itu (timbulah faham yang berlainan menurut kandungan hati masing-masing) - adapun orang-orang yang ada dalam hatinya kecenderungan ke arah kesesatan, maka mereka selalu menurut apa yang samar-samar dari Al 'Quran untuk mencari fitnah dan mencari-cari Takwilnya (memutarkan maksudnya menurut yang disukainya). Padahal tidak ada yang mengetahui Takwilnya (tafsir maksudnya yang sebenar) melainkan Allah. Dan orang-orang yang tetap teguh serta mendalam pengetahuannya dalam ilmu-ilmu agama, berkata: "Kami beriman kepadanya, semuanya itu datangnya dari sisi Tuhan kami" Dan tiadalah yang mengambil pelajaran dan peringatan melainkan orang-orang yang berfikiran.
Al 'Quran - My1WORLDCommunity.blogsport.com
Firman Allah Ta'ala: "Dan aku tidak meminta kepada kamu sebarang upah mengenai apa yang aku sampaikan (dari Tuhanku); balasanku hanyalah terserah kepada Allah Tuhan sekalian alam. (Surah 26 'Ash 'Shu'ara: Ayat 109)
Totally free edaran cetak atau email atau apa-apa untuk tujuan dakwah.

Guna & Spread > > >
Semoga Allah Subha-nahu-wa-Taala memberkati kita semua.
Marilah kita mula membaca terjemahan dengan surah pembuka,
IBU segala surah, >

Al 'Fatihah
In the name of Allah, Most Gracious, Most Merciful
Assalamualaikum wbh . . .
The logic of the existence of this website is the existence of the holy Al 'Quran Al Karim itself. We learn as a child, how to read tajwid correct, but only a few of us know the meaning of verses of the 'Qur'an.
I am compelled to document Al 'Quran Malay translation to search for Al 'Quran in Malay translation and blog site more easily. Now this blogsite is offering 'Quran translation in Malay and English. So we think the blog there will be more easily search for information about the sentence Al 'Quran in Malay and English whole WORLD.
Many non-Muslims when reading the 'Quran with an open heart to understand their meaning, and return to Islam. They are more cautious with the understanding of the 'Quran. We are born into the Muslim community should have a sense of inferiority and shame for the people we mostly do not understand the 'Quran and this is causing many social problems occurred at the end of this period.
Translation is a selection of words by humans based on verses of the 'Quran is read. Book is actually the verses in Arabic, was revealed to Muhammad Sal-Allahu-Aleihi-was-Sallam (peace and blessings of God be on him) in Mecca and Medina revelations about God and protected until the end of time. Al 'Quran does not have a version as it is but one, a book only. Al 'Quran is the words of God Almighty.
Let us together and read the Koran in his spare time, while reading the 'Quran in Arabic, let us understand the purpose of the 'Quran in Arabic language. But in the meantime are reminded to understand the implied meaning is the verse that we should refer to the Guru or Ustad, see the verse in context. Why is it revealed. So we do not mis-interpretation. This website explains the context of when and why the surah was revealed.
From Sura Al-i-Imran, verse 7: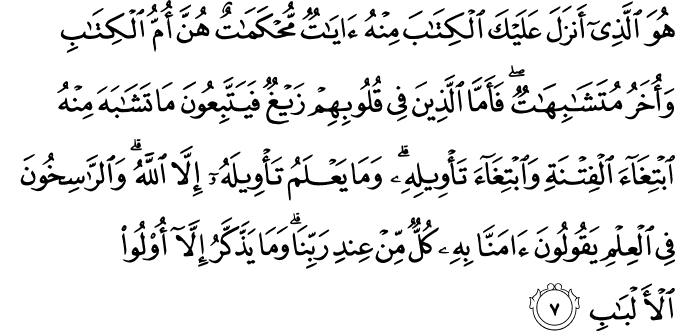 God Almighty says in the Holy 'Quran:
He is a down unto thee (Muhammad) the Holy 'Quran. Most of the 'Quran are verses basic or fundamental (steady, firm and clear established meaning); the verses basic or fundamental is the principal (or principal) 'Quran. And still others are revelations "Mutasyaabihaat" (vague, its meaning is not clear). Therefore (emerge entirely understand that their hearts content) - as for those who find in him a tendency to error, they always follow what is ambiguous from the 'Quran to seek persecution and searching for its hidden meanings (misinterpreting its meaning according to his liking). Though no one knows its hidden meanings (the exact interpretation of the meaning) except Allah. And those who are firmly grounded in the knowledge-depth knowledge of religious sciences, said: "We believe, it all comes from our Lord" and none will grasp the Message except men of understanding.
Let us first read the translation of the opening chapter, the mother Of all the verses, -> Al 'Fatihah
GOD ALMIGHTY SAYS IN THE HOLY QURAN: "NO REWARD DO I ASK OF YOU FOR IT: MY REWARD IS ONLY FROM THE LORD OF THE UNIVERSE". (Surah 26 'Asy'Shu'ara: verse 109)
Al 'Quran - My1WORLDCommunity.blogsport.com
BismillahirRahmanirRahim
In the name of Allah, Most Gracious, Most Merciful
1. Al Fatihah Introduction
This Surah is named AL 'FATIHAH because of its subject-matter. 'Fatihah is that which opens a subject or a book or any other thing. In other words, Al 'Fatihah is a sort of preface.
It is one of the very earliest Revelations to the Holy Prophet. As a matter of fact, we learn from authentic Traditions that it was the first complete Surah which was revealed to Muhammed (Allah's peace be upon him). Before this, only a few miscellaneous verses were revealed which form parts of `ALAQ, MUZ-ZAMMIL, MUD-DATH-THIR, etc.
This Surah is in fact a prayer which Allah has taught to all those who want to make a study of His book. It has been placed at the very beginning of the book to teach this lesson to the reader: if you sincerely want to benefit from the Quran, you should offer this prayer to the Lord of the Universe.
This preface is meant to create a strong desire in the heart of the reader to seek guidance from the Lord of the Universe, Who alone can grant it. Thus AL 'FATIHAH indirectly teaches that the best thing for a man is to pray for guidance to the straight path, to study the Quran with the mental attitude of a seeker-after-truth and to recognize the fact that the Lord of the Universe is the source of all knowledge. He should, therefore, begin the study of the Quran with a prayer to him for guidance.
From this theme, it becomes clear that the real relation between AL 'FATIHAH and the Quran is not that of an introduction to a book but that of a prayer and its answer. AL 'FATIHAH is the prayer from the servant and the 'Quran is the answer from Allah to his prayer. The servant prays to Allah to show him guidance and Allah places the whole of the Quran before him in answer to his prayer, as if to say, "This is the Guidance you begged from Me".
Surat Al Fatihah
(The Opener)
القرآن والسنة
Stats
›
Audience
Pageviews by Countries
2012 Apr 13 @14:07
Pageviews by Browsers
Pageviews by Operating Systems